Brexit: UK in EU talks as Juncker says deal achievable
Brexit Secretary Stephen Barclay is to hold talks with the EU's chief negotiator, Michel Barnier, later.
The Brussels meeting follows European Commission President Jean-Claude Juncker saying a new Brexit deal could still be reached before 31 October.
Prime Minister Boris Johnson said some "progress" was being made, but it was important not to "exaggerate" this.
And Irish Foreign Minister Simon Coveney said there was still a "wide gap" between the UK and the EU.
He told BBC Radio 4's Today that EU leaders were "still waiting for serious proposals" from the UK and, while the "mood music" had improved, they were "not close to that deal right now".
Ahead of the meeting in Brussels, Mr Barclay warned the EU against a "rigid" approach and suggested the final details of an alternative to the Irish backstop may not need to be resolved until the end of 2020.
The backstop is the controversial policy aimed at preventing the return of a hard border on the island of Ireland after Brexit.
It was a major sticking point in former Prime Minister Theresa May's attempts to get Parliament to back her withdrawal agreement, which was rejected three times by MPs.
Mr Johnson, who has said he wants to leave the EU – preferably with a deal – by the current deadline of 31 October, has urged the EU to scrap the backstop.
The EU has asked for alternative proposals and had previously criticised the UK for not putting any plans in writing.
Mr Juncker told Sky News that he had no "emotional relationship" with the backstop, adding: "If the objectives are met – all of them – then we don't need the backstop."
He said his meeting with Mr Johnson in Luxembourg on Monday had been "rather positive", and "we can have a deal" in the next few weeks.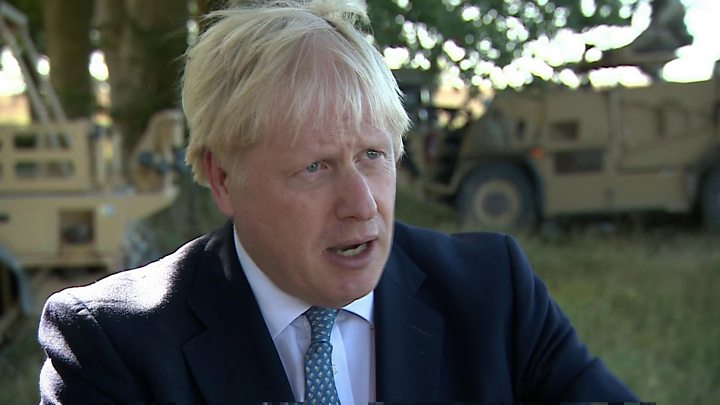 The cautiously optimistic tone was shared by Mr Johnson, who said: "I don't want to exaggerate the progress that we are making, but we are making progress."
The prime minister said the UK needed to leave in a way that allowed it to "do things differently" and "not remain under the control of the EU, in terms of laws and trade policy".
But he also reiterated the need to ensure no hard border returned to Northern Ireland, and the Good Friday Agreement – which helped bring an end to the Troubles – was protected.
"We think we can do that," Mr Johnson said. "We think we can solve that problem and I think we are making some progress."
He added: "Let's see where we get. It is vital whatever happens that we prepare for no-deal, and we will be ready for no-deal on 31 October. We have got to do both things at once."
However, Mr Coveney told Today the UK was asking the Republic of Ireland to replace the backstop with "a promise that somehow we'll do our best to solve this issue in the future but we don't know how just yet".
He said Ireland's position was to get a deal allowing the UK to leave the EU in an "orderly and sensible manner" but "we cannot allow Ireland to be the collateral damage to that".
"And I think for Britain to ask us to do that is a very unreasonable request and it won't be the basis of a deal," he added.