CAMEROON: Constitutional Council throws out 16 poll petitions, Kamto fights 'biased' council
Cameroon throws out 16 poll petitions, Kamto's fight against 'biased' council flops
Cameroon's Constitutional Council yesterday, October 16, dismissed as many as sixteen of eighteen post-poll petitions presented before it by aggrieved opposition members and parties.
Among those whose applications were dismissed were Cabral Libii. Self acclaimed poll winner, Maurice Kamto, leader of the Cameroon Renaissance Movement, CRM, was himself present in court to make submissions.
Kamto had advanced an argument of partiality on the part of the Council as he sought the disqualification of six members. He accused them of being persons who had the interest of the ruling CPDM at heart and thus unfit for the exercise.
He was ruled as not having a strong enough basis to demand for another judicial body to sit on the issue. The sitting which took place in Yaounde was suspended at a time Kamto's party was to adduce evidence on irregularities in areas it wanted results cancelled.
Leader of the Council, Clement Atangana, has long been accused of been a loyalist of incumbent Paul Biya. Biya is seeking a seventh term in office, his fourth under the multi-party era.
READ MORE: Biya's multi-party era winning record
No-show on 'ghost observers' presser, poll petition starts
Today is the day elections petitions – 18 in all – are expected to be heard by the Constitutional Council sitting in the capital Yaounde.
Individuals and parties are seeking partial and in some cases total cancellation of the October 7 presidential polls.
Yesterday, there was a no-show despite widely publicized news that the government through information minister, Issa Tchiroma Bakary, was to explain the "ghost observers," who claimed to be from Transparency international, TI.
The said observers had given top marks to the election process last week but also attracted a disavowal by TI who said they had no observers dispatched to Cameroon for such reasons.
The camp of self-acclaimed poll winner Maurice Kamto has also been buzzing. Kamto's camp were barred from holding a press conference in Yaounde yesterday even though he issued a statement on Facebook dismissing reports of a Biya victory of 71%.
Kamto's also received his party's treasurer who was released from jail after over a week. The CRM Treasurer, Okala Ebode, had been behind bars for 8 days because he denounced electoral fraud, local portals said.
Date set for petition hearing, Biya victory leaked?
State-owned Cameroon Radio Television, CRTV, late last week reported that a date had been fixed to hear election petitions filed in relation to the October 7 presidential elections.
The date is October 16, 2018 at the Yaounde Convention Center. The election body, ELECAM, has confirmed receiving 18 petitions filed at the Constitutional Council.
The petitioners including major opposition parties are seeking partial and in some cases total cancellation of the results. Already, one candidate, Maurice Kamto has claimed victory in a move widely condemned by government and the ruling party.
Meanwhile, local media portals are reporting that a leaked result shows that president Paul Biya was in the lead with over 71% of votes cast. The government or ELECAM has yet to confirm or deny the information.
The fight against fake news was one of the core campaign issues ahead of the election. Yaounde had gone as far as seek the help of social media giants, Facebook, to help combat the menace.
18 poll petitions deposited at Constitutional Council, 
ELECAM

confirms.

Elections body, ELECAM, on Thursday confirmed that it had been served legal challenges to the October 7 presidential polls. A total of 18 individuals and parties had approached the Constitutional Council.

"They are thus allowed 48 hours to submit their replies, against a receipt. Section 133 (3) od the Electoral Code," it added in a tweet.

Meanwhile a local journalist is reporting that the main opposition Social Democratic Front, SDF, candidate, Joshua Osih in his application to the Council is seeking a total cancellation of the process.

ELECAM has fifteen day period to release results but opposition parties hold that it is largely a period during which results are manipulated. An Aspirant, Maurice Kamto claimed victory on Monday with a government response branding him as "irresponsible and lawless."
October 11: Opposition seeking total, partial cancellation of results
State broadcaster, CRTV, have confirmed reports that a number of opposition parties had approached the court over the October 7 presidential elections.
CRTV said in a tweet on Thursday, four days after the vote, that a total of 17 applications had been made to the Constitutional Council demanding partial and in some cases total cancellation of the vote.
They confirmed that among the applicants before the top court were main opposition leader Joshua Osih of the Social Democratic Front, SDF, and Maurice Kamto who led an opposition coalition that involved Akere Muna, a famed lawyer.
October 10: Kamto camp wants probe into 
CRTV

 report

Local media in Cameroon are reporting that the camp of opposition contender Maurice Kamto on Wednesday afternoon held a press conference in the capital Yaounde amid deployment of heavy security.

Kamto's spokesperson among other demands called for a probe into the false report carried by state broadcaster, CRTV. Kamto's camp said the TV and ministry responsible for accreditation needed to be probed.

CRTV had carried a news item on Tuesday alleging that Transparency International, TI, had given high marks to the October 7 process. TI in a statement denied the report.

Other issues he raised were that: There was a ploy to blame violence on Kamto, that there was growing tension in the country. He also flatly denied that Kamto was being financed by politicians held in prison over an anti-corruption crackdown, Operation Epervier.

Kamto, leader of a two-party alliance declared on Monday, barely twenty-four hours after the vote that he won an emphatic victory. Government slammed his announcement describing it as "irresponsible, illegal."

The spokesman clarified in later reports that Kamto had only claimed victory based on figures and projections. "Maurice Kamto did not proclaim himself president, he claimed victory, it's not the same thing," Olivier Nissack reportedly said.
October 9: State TV accused of fake observer report
Cameroon radio and television, CRTV, the state broadcaster has been exposed by international rights group Transparency International, TI, over a report that the group's observer team had 'blessed' the conduct of the October 7 presidential polls.
CRTV shared a video that purported to have observers with TI but the group in a press statement said it had not sent a team to observe the polls.
"Transparency International confirms that it has no international election observation mission in Cameroon. A recent television report featuring individuals described as working for Transparency International is false and untrue," a statement read.
It is the most significant development surrounding the polls since opposition candidate Maurice Kamto declared that he had won a clear mandate from the people.
The former Biya minister had been dismissed by the government describing his move as irresponsible and illegal. Kamto's coalition ally, Akere Muna, is a former TI top official. He resigned to contest the presidential polls but entered an alliance with Kamto less than 24-hours to the vote.
October 8: Kamto makes unofficial victory declaration
Voting closed in Cameroon in Sunday evening and counting of ballots started in earnest. Main opposition Social Democratic Front, SDF, vowed to police the counting and results declaration process.
But it is the declaration of victory by Maurice Kamto, a former Biya minister that has thrown the process into a state of shock. Kamto who led a two-party alliance involving famed lawyer Akere Muna said the goal of his party had been reached.
A summary of the issues he raised in his victory speech (in French) is as follows:
Cameroonians have chosen to go down a historic path by voting out the incumbent.
He has won a clear mandate he is ready to defend firmly.
Called on Paul Biya to make transition arrangement to avert needless post-poll crisis.
His supporters can remain joyful and proud of the achievement.
The government has yet to officially react to the development but electoral laws suggest that it is an offense to declare oneself winner of the elections. A point that had been stressed by government in the run up to the vote.
Sections of the Electoral System stipulates that the President of the Republic is elected for a seven-year term by universal suffrage and by direct, equal and secret ballot.
According to the Cameroon electoral code, the president is elected by a single-round majority ballot and the candidate having obtained the majority of the votes cast shall be declared elected.
It also states that election will not be complete until Cameroon's Supreme Court rules on requests for annulment and announces the results.
October 7, 2018: Cameroon polls take place amid high security in English-speaking zones
Cameroonians voted on Sunday (October 7) in a key presidential election which could end or extend the 36-year rule of President Paul Biya, one of Africa's longest serving leaders.
Polls opened at 0800 local (0700GMT) across much of the country including areas in the restive English-speaking regions. Security has been heightened with armed personnel deployed outside most poling stations.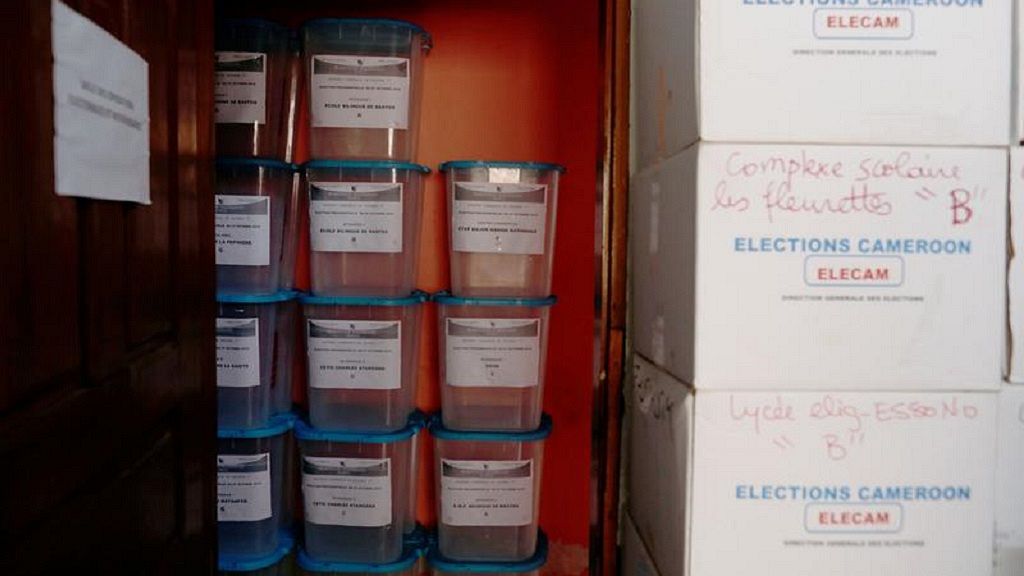 Reuters reports that three separatists have been shot dead in Bamenda, capital of the northwest region of the country. The northwest and southwest regions have been the epicenter of what has become known as the Anglophone crisis.
A security source told Reuters that the trio had been gunned down for attempting to disrupt the voting process. Separatist groups have vowed to stop the polls from taking place in both regions.
 Will opposition coalition count for much?In a surprise and belated move with about 24-hours to opening of polls, two opposition members announced a long-expected alliance. Former Biya-era minister Maurice Kamto agreed a coalition with famed lawyer Akere Muna.
Muna's correspondence to the elections body, ELECAM, to step down as a candidate was however turned down. He has asked his supporters to vote for Kamto. A reported third coalition member, Serge Espoir Matomba, denied agreeing to join late Saturday.
Political watchers said despite the coalition being a welcome move, it had come too late in the day but that its impact will be properly assessed after the close of polls and in the stage of results declaration.
Ex-Togo PM leads AU observers, EU backed out
The European Union, EU, said it will not deploy observers to Cameroon as it has done in almost all previous votes across Africa.
But the African Union, AU, has a team in the country led by former Togolese Prime Minister, Artheme Ahoomey Zunu Kwesi Agbefia Seleakodji Lolonyo. The EU and UN have all called for peaceful and transparent process.
Biya, the 85-year-old long-server gunning to soldier on
A victory for Biya, who has ruled since 1982, would usher in a seventh term for the 85-year-old and see him stay until at least the age of 92, bucking a tentative trend in Africa where many countries have installed presidential term limits.
It would maintain a long held status quo in the oil and cocoa producing Central African country where, despite relative economic stability and growth of over 4 percent a year since Biya was last elected in 2011, many of its 24 million citizens live in deep poverty. Most have only known one president.
Of Biya's biggest challenges has been the year-old secessionist uprising in the Anglophone Northwest and Southwest regions that has cost hundreds of lives and forced thousands to flee either to the French-speaking regions or into neighbouring Nigeria.
It further complicates Cameroon's security mix, that is, for a country that is still battling Boko Haram insurgents in its Far North region. A new security region was set up in Bamenda in what was seen as a security solution to the separatists.