Ghana Rugby Successfully Kicks Off The Journey To The World Stage
Ghana Rugby completed its kickoff to the world stage of rugby in Kampala-Uganda by beating Mauritius 26 to 0 to be placed 9th in the Africa Men's Sevens Tournament that was played between ten of Africa's best nations between 6 and 7 October 2017 in Kampala-Uganda.
Ghana Rugby's participation in the tournament followed its acceptance as full member of World Rugby on 10 May 2017 and after it managed to convince the governing body, Rugby Afrique, to include Ghana even though it was unranked by both World Rugby and Rugby Afrique.
The first match of the tournament was a great surprise to all involved when Ghana (ranked 9th for the tournament) managed to draw 19-19 against Tunisia who was ranked 4th in the tournament.
Even though the Ghana Eagles did not manage to win another match in the "Pool of Death" against Uganda (1), Morocco (5) and Zambia (8), everybody was in agreement that Ghana was unlucky to not have proceeded to the next stage and that their kickoff towards the quest for participation in global competitions was solid and impressive.
Mr Herbert Mensah, President and Board Chairman of Ghana Rugby, said in an interview from Ghana that he obviously hoped for a better result but that he was proud that the Ghana Eagles showed the rugby world that they are not to be underestimated in years to come.
"Ghana Rugby was probably the only team that had no match practice prior to the tournament and this was the first time that we have ever been exposed to the "big" stage of Rugby," Mensah said.
He continued to say that he was proud of the players and technical bench who have managed to get Ghana Rugby on a ranking list of Rugby Afrique for the first time in its history.
Ghana Rugby managed to get pro-bono technical support from the All Stars Sevens Rugby Academy in South Africa through the facilitation of Mr Willem Strauss, a well-known sports promoter.
Mr Ludwiche van Deventer, head coach of the All Stars Academy, assisted the Ghana Rugby coach with preparations for the tournament.
Mensah expressed his sincere appreciation for the support and said that fruitful discussions were held about continuing relationships between the parties.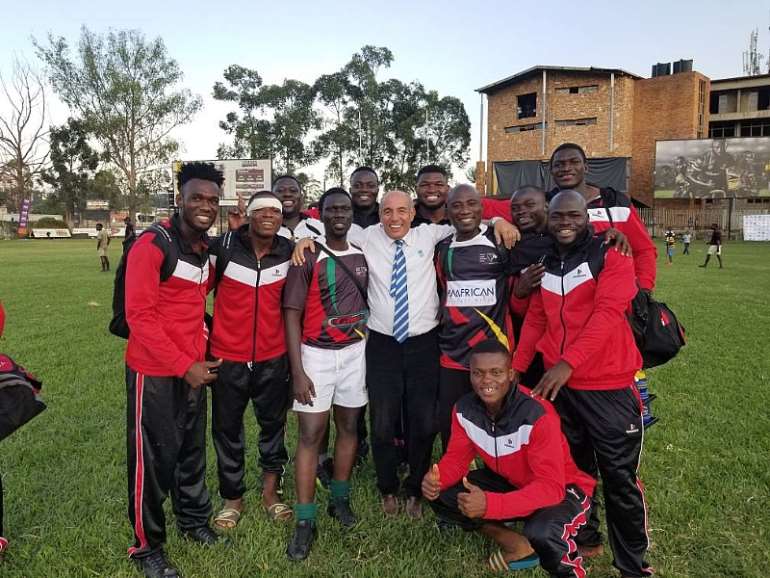 Mr Abdelaziz Bougja, President Of Rugby Afrique, With Members Of The Ghana Rugby Squad That Managed To Get Ghana Rugby "Ranked".
"The ranking as number nine on the Rugby Afrique men's sevens list rounded off a year of exceptional achievements in a very short space of time. Ghana Rugby achieved to become full members of World Rugby since my administration and I took office on 5 June 2016 in fewer than three years.
In addition, we hosted a very successful Rugby Afrique Regional Challenge tournament in May that we managed to win. Ghana Rugby currently tops the challenge table," Mensah remarked.
Mensah also expressed his gratitude personally and on behalf of Ghana Rugby who "engineered" Mission Kampala and made it possible.
"Thanking the Ghana Rugby Family & Friends for their contributions is always the most difficult task as you are bound to leave someone out. We thank anybody and everybody who supported us and will do so on an individual basis as well.
I will neglect if I don't mention Rugby Afrique for everything to do with Mission Kampala, the Uganda Rugby Union for being a fantastic host, the Panafrican Equipment Group and Golden Tulip Accra for their sponsorships, Willem Strauss Marketing for facilitating technical support from South Africa, the numerous volunteers in Ghana, and everybody else," Mensah said.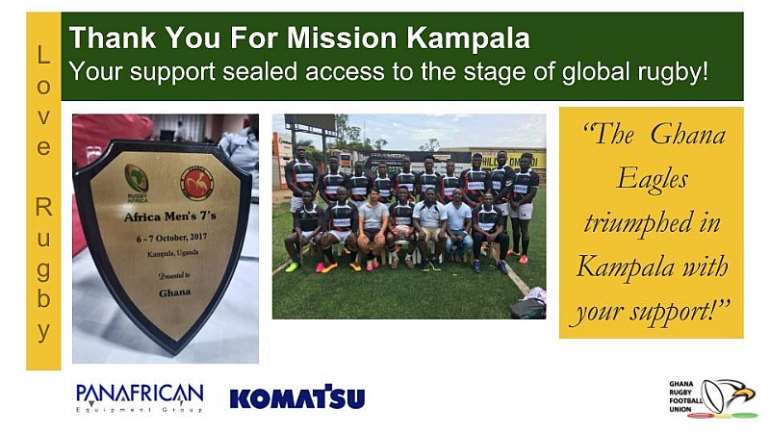 The Africa Men's Sevens tournament was won by Uganda with Zimbabwe in second place. Both these teams, therefore, managed to achieve the exceptional honours of participation in the 2018 World Rugby Sevens Cup in San Francisco, the 2018 Gold Coast Commonwealth Games in Australia and the World Series Qualifier tournament in Hong Kong in 2018.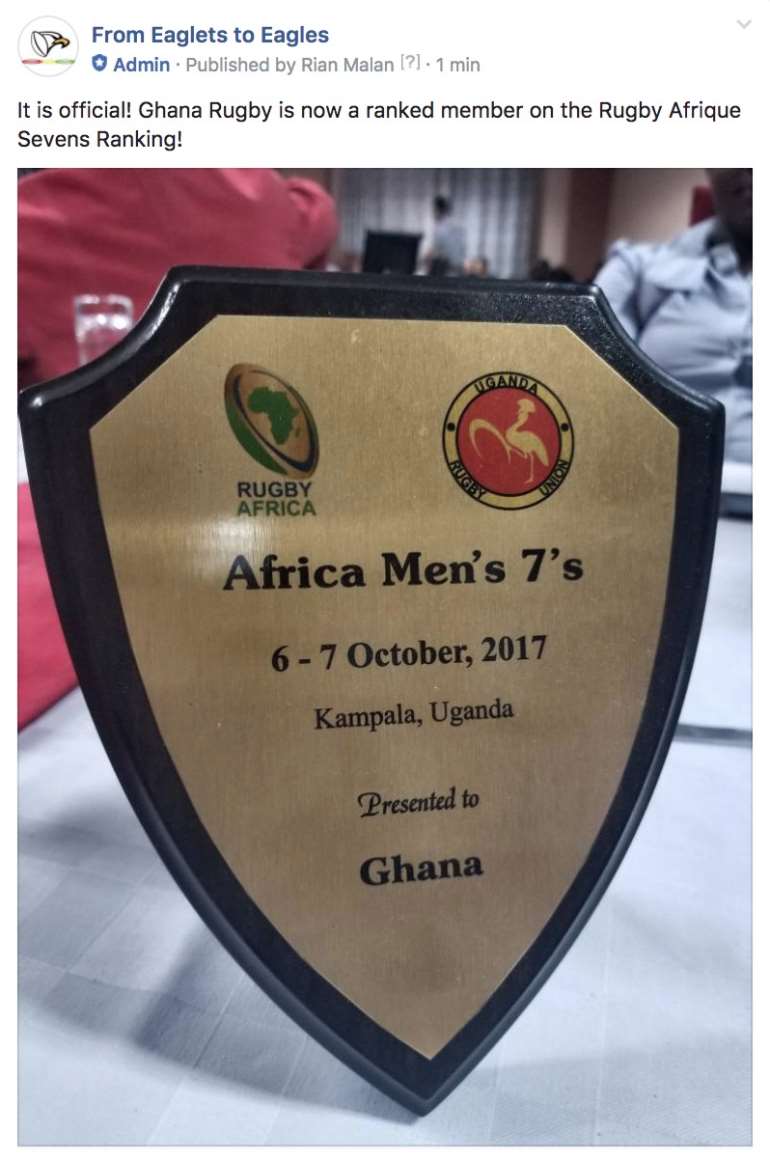 The plaque recognising Ghana Rugby's participation in the 2017 Africa Men's Sevens tournament in Kampala-Uganda.
The Ghana Eagles team that managed to secure a 9th position ranking on the Rugby Afrique sevens ranking list.
-modernghana