Markets edgy on US-China trade war fears
Asian shares have been hit by fears that US President Donald Trump's plan for tariffs on up to $60bn of Chinese products could trigger a trade war.
Japan's Nikkei 225 index fell 4.5% and the Shanghai Composite fell 3.6%.
China responded to news of the planned tariffs by saying that while it did not want a trade war, it was "absolutely not afraid" of one.
Mr Trump's proposed tariffs are a response to allegations of intellectual property theft by China.
The US launched a complaint against China at the World Trade Organization (WTO) on Friday.
Its statement said: "China appears to be breaking WTO rules by denying foreign patent holders, including US companies, basic patent rights to stop a Chinese entity from using the technology after a licensing contract ends."
"China also appears to be breaking WTO rules by imposing mandatory adverse contract terms that discriminate against and are less favourable for imported foreign technology."
'Prepared to defend'
Beijing said it firmly opposed the planned tariffs but China's ministry of commerce said it was "confident and capable of meeting any challenge".
"China will not sit idly by its own legitimate rights and interests. We are fully prepared to defend our legitimate interests," the ministry said.
But it said it hoped the US would not drag bilateral economic and trade relations into danger.
Fears of a trade war pushed Asian stock markets down sharply. China's Shanghai Composite Index closed down 3.6% while Hong Kong's Hang Seng index ended 2.5% lower.
"Equity markets have sold-off heavily this morning as investors are fearful we are entering a trade war," said David Maddon, market analyst at CMC Markets UK.
"Traders don't like the look of the political landscape, and they are seeking safe-haven assets."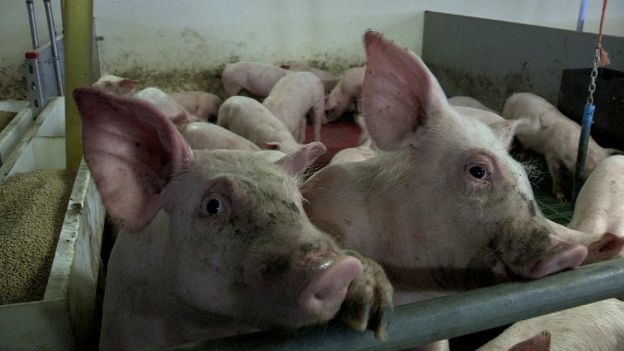 Earlier on Friday, China announced its own set of proposed tariffs worth $3bn. Beijing said these were in response to US tariffs on steel and aluminium imports announced by Mr Trump earlier this month.
The US tariffs on steel and aluminium imports come into effect this week.
China's commerce ministry said it was planning two steps of retaliatory action:
a 15% tariff on 120 goods worth almost $1bn – including fresh fruit, nuts and wine
a 25% tariff on eight goods worth nearly $2bn – including pork and aluminium scrap.
Why is the US taking tariff action?
The US imports billions more goods from China each year than it exports, creating a deficit of about $375bn last year – a figures which Mr Trump has railed against.
The president said on Thursday he had asked China to cut that deficit by $100bn "immediately".
Last August, Mr Trump ordered an investigation into Chinese policies and his proposed tariffs reflect the outcome of that probe.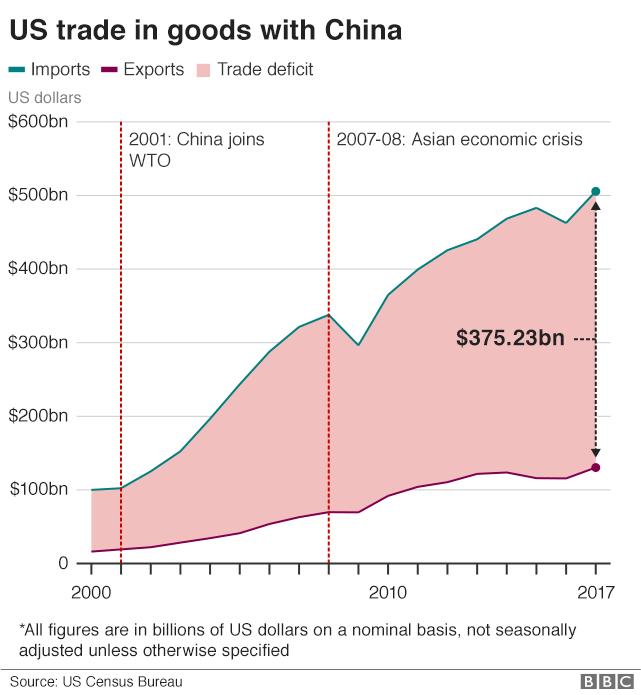 The White House said the investigation found a range of "unfair" practices in China, including restrictions on foreign ownership that pressured foreign companies into transferring technology.
The review also found evidence that China imposes unfair terms on US companies; steers investments in the US to strategic industries; and conducts and supports cyber attacks.
The White House said it had a list of more than 1,000 products that could be targeted by tariffs of 25%. Businesses will have the opportunity to comment before the final list goes into effect.
The US is also exploring ways to limit Chinese investment in the US. It says it will bring any matter it thinks is unfair to the WTO – as it is doing in the case of intellectual property.
Who are the potential losers in a trade war?
US officials had acknowledged the possibility of retaliation from China, but said the Asian giant ultimately had more to lose.
If imposed as described, the US tariffs could lead to higher costs for consumers, while China's retaliation would hit key sectors of the US economy including agriculture and aerospace, analysts say.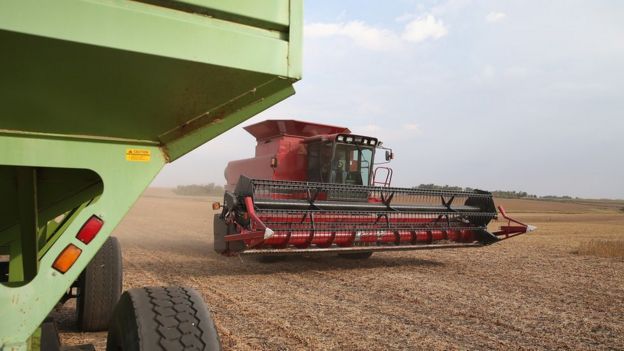 China was the third largest market for US exports in 2016 and among the biggest buyers of American corn, pork and aircraft.
China is also the world's biggest consumer of soybeans and consumes about one third of the US crop.
But in news which will come as a relief to US farmers, Friday's announcement did not include the soybeans.
Is there wider support in America for the plan?
Critics of Mr Trump's policies dismiss worries about the trade deficit, saying the exchange benefits both sides.
However, there is growing bipartisan concern in America about China's state-led economy and there is a worry that China is seeking technology that could be deployed for military purposes.
Mr Trump's America First policy remains popular with large sections of the US public.
However, trade watchers in Asia says China's retaliation will no doubt be carefully targeted to hit key Trump-supporting areas of the US.
"The Chinese have been developing their list for more than a year and they are very good," said Deborah Elms, executive director of the Asian Trade Centre in Singapore.
"If things get very nasty, they can also make life very difficult for US companies doing business in China. It's going to be very interesting."
Source: BBC Business