The degrees that will give you the biggest pay boost
Women studying maths at Oxford and men taking economics at Bristol get the biggest increase in earnings from going to university, says an analysis of salaries at the age of 29.
The study, from the Department for Education and Institute for Fiscal Studies, says women are much more likely to gain from getting a degree.
Women with a degree earn on average 28% more than non-graduate women.
Men with degrees earn an average of 8% more than non-graduates.
But a third of men go to universities which give them only a "negligible" pay advantage, despite the cost of fees.
The lowest for earnings for men is studying philosophy at Sussex – and for women it is computing at Westminster.
How much do students get back in earnings?
The report, based on tax records of people who went to school in England and then went to university in England, Wales or Scotland, looks at how going to university might affect earnings.
Setting aside any social benefits, it's asking if it's worth the cash, when graduates are leaving with an average of £50,000 of debt.
A woman with a degree on average earns £6,700 more per year than a non-graduate woman – with women improving their earnings for almost every course at every university.
But the difference is much narrower for men, with a male graduate on average earning £2,700 more than a non-graduate.
There are tougher questions for the one-third of men who go to universities which give "negligible or negative impact" on earnings compared with those without a degree.
Are they getting value for money?
Why do women do so much better?
The report says getting a degree is clearly an "excellent investment" for women, because their earnings are so much higher than non-graduate women.
Much of this is because women without degrees are particularly likely to be low earners – and so the gap between them and graduates is likely to be wider.
This could be because women without degrees are likely to be in particularly low-paid jobs.
But another factor is that non-graduate women in their 20s are twice as likely to be working part-time as women with degrees.
This could be because women who do not go to university tend to have children earlier than graduate women.
So the big gains for women described in the report could include comparisons between full-time graduate earnings and those non-graduates working part-time.
Does the subject choice matter?
The report shows there is a huge difference in likely earnings depending on the subject studied.
At the top end of the pay scale are medicine, economics, maths, business and law.
Women studying medicine can expect to earn 78% more than non-graduate women.
At the lower end are subjects such as creative arts, philosophy and English.
Men taking these subjects are likely to get "negative" returns – as on average they will earn less than their male counterparts who did not go to university.
For men taking creative arts, they can expect 14% less than non-graduates.
Does the type of university make a difference?
There are significant earnings premiums for those at the top of the table – with women getting the best returns from four London universities – the LSE, Imperial, King's College London and the School of Oriental and African Studies – and Oxford.
Bristol and Cambridge are added to the list of high earners for male students.
At the bottom, for male graduates, are modern universities, such as Bath Spa, or colleges which also deliver further education, such as Leeds City.
Almost all women are at universities which will boost their pay – although Bolton is an exception and is ranked lowest.
It might not seem that surprising that modern universities do less well in future earnings.
It might also be predictable that arts-based institutions get lower earnings, such as Ravensbourne, Goldsmiths and the University of the Arts.
But there might be scrutiny of the scale of universities where there are negative outcomes – 26 institutions where male earnings are on average less than non-graduates and 39 where the returns are less than 2%.
Essex, Hull, Leicester, Sussex, Keele and Bradford all have an earnings premium below 10% for male students.
How subject and university combine for winners and losers
If you put together the subject and university choice you can see the extremes of high and low-earning courses.
For women, maths at Oxford is the highest, followed by economics at the LSE. Economics at University College London gives a big return, as does medicine at Imperial.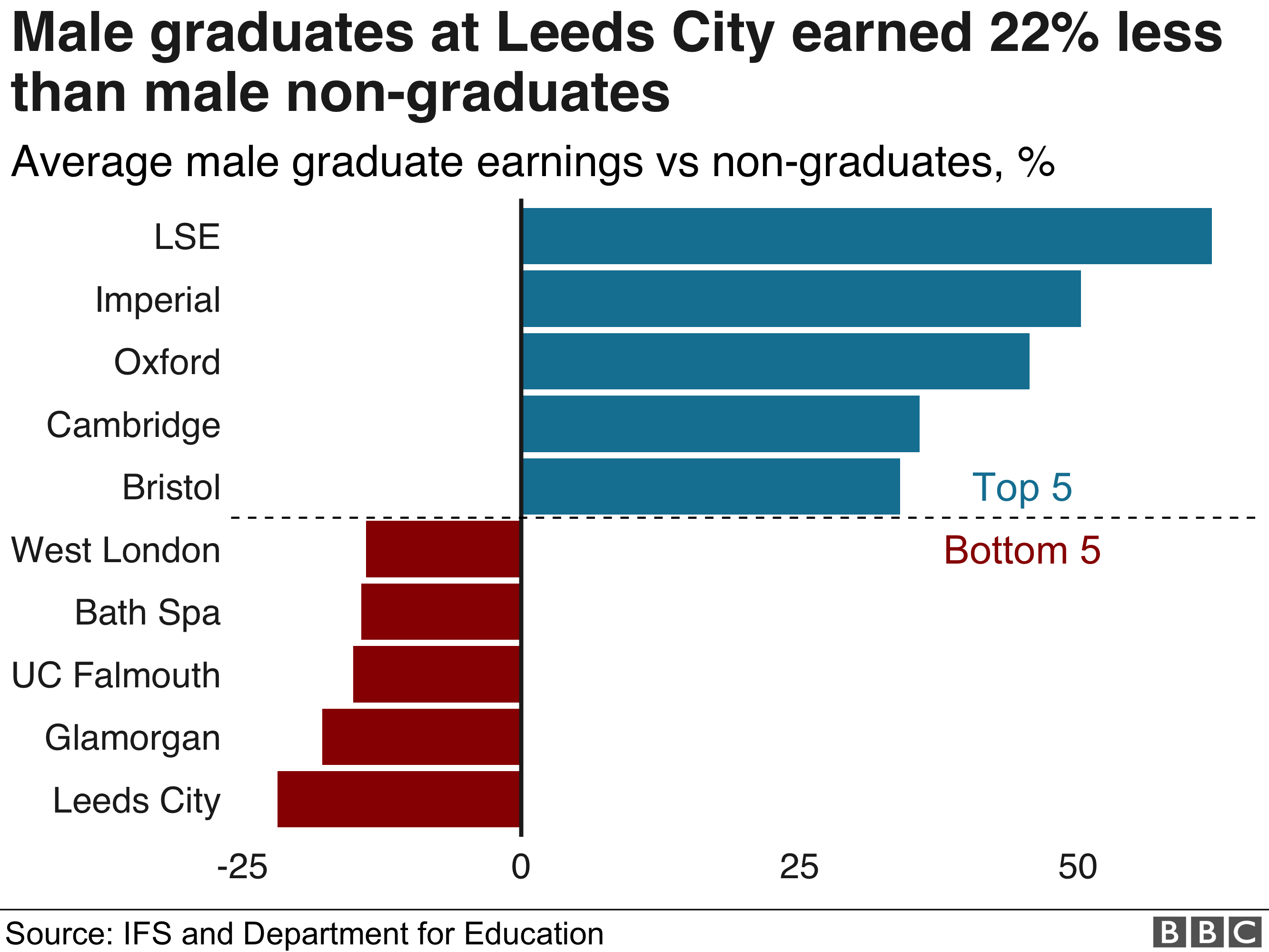 In fact, the highest earners are a narrow combination of maths, law, medicine, physics and economics taken at a handful of top universities.
It's very similar for male graduates, headed by economics at Bristol and physics at Oxford.
For women, the lowest paying is computing at Westminster. Psychology at Bolton is in the bottom five.
But showing how much the course can drive the outcome, creative arts at Cambridge is among the least likely to deliver high earnings.
For men, philosophy at Sussex is ranked as offering the lowest rate of return – and studying languages at Oxford is also in the bottom five for male earnings.
What difference does it make?
The Universities Minister Sam Gyimah says that more transparency is vital to make sure that young people make informed choices about university places.
This will help them to think about getting value for money from their degree.
He also wants this to "shine a light" on courses that seem to deliver such a low rate of return.
But in the background, the big political context is a review considering the future of tuition fees in England.
This latest report could raise some very awkward questions.
Is it reasonable to charge students £9,500 regardless of course or university when there are such different outcomes in earnings?
And is it sustainable to have such a high level of fee and debt, when for so many, particularly men, the returns can be marginal or non-existent?
BBC