UK: Shopping Centres in Crisis
More than 200 UK shopping centres are in danger of falling into administration, experts are warning.
Analyst Nelson Blackley said the demise of "major anchor stores" such as BHS and Toys R Us, and the rise of online retail, had caused a "downward spiral".
Many of the at-risk centres are owned by US private equity firms under deals that will need refinancing.
"If centres close, particularly in small towns, it will be catastrophic," Mr Blackley said.
The Department for Communities said it was "committed to helping communities adapt".
Mr Blackley, from the National Retail Research Knowledge Exchange Centre, said the UK had an excess of shopping centres with similar retail offerings.
"We have too many of them, doing exactly the same – the same range of stores and products – and basically that's not attractive," he said.
"New data suggests over 200 shopping centres in the UK are in danger of falling into administration, unless their owners secure fresh funding."
He said the growth of online retail in the UK – on sites such as Amazon – had been faster than in almost any other retail market in the world.
"If the major anchor store moves out, that has a halo effect on other stores in that centre. It's a downward spiral and you can't fill shopping centres with nail bars and vape shops."
Mr Blackley, who is based at Nottingham Trent University's Nottingham Business School, pointed to research in the Financial Times that suggested about £2.5bn worth of shopping centres and retail parks are up for sale in towns and cities across the UK.
"Some of this marketing is unofficial and not in the public domain," he said.
"It's a trend that's moving very quickly. You don't necessarily want to be in the business of owning shopping centres at the moment.
"People are suggesting a number of leading national retailers are on the edge and may close and that would bring shopping centres down with them.
"The collapse of BHS, two years ago, left empty units in around 200 shopping centres and more than half of those large, empty units have not yet been filled."
The crisis is affecting shopping centres across the UK, regardless of their location Daniel Mead from APAM said.
"What they have in common is the way in which they are funded – the capital structure behind them. Obviously, if the centre is in a more affluent location, the problem could be easier to fix."
One centre which recently went into receivership is the Nicholsons Shopping Centre in Maidenhead which, according to the Financial Times, was bought by Vixcroft, a private equity-backed property specialist and hedge fund Cheyne Capital in 2015.
The paper described Nicholsons as "one of the first significant collapses among dozens of UK retail property assets bought by opportunistic investors".
Centres stagnating?
Residents have spoken to the BBC about their concerns regarding a number of shopping centres up and down the country, where they feel empty units and an apparent lack of investment have led to stagnation.
Kettering's Newlands Centre, which is backed by private equity, has seen the closure of a number of outlets including names like WH Smith. "It's a sad scene at the moment," said Paul Ansell, chair of the town's civic society. "There is a cycle of shops opening and closing and I'm not sure what they can do to improve it."
The Guildhall in Stafford, also backed by a private equity group, has seen many retailers vacate the centre in favour of the town's new Riverside complex. "We are concerned it's not as vibrant and active as it was," said William Read, of the Stafford Historical and Civic Society. "I walked through there the other day and about 15-20% of the units are empty." Both private equity groups have been contacted for a comment.
The Broadmarsh in Nottingham is owned by Intu – currently the subject of a takeover bid – which operates shopping centres across the UK. While it does not face the same issues as private-equity backed centres, Mr Blackley said it offers "about as bad a retail experience as you can get without the centre physically closing". Nigel Wheatley, the centre's general manager, said preparations were under way for its "exciting transformation".
The research to identify "at-risk" centres was carried out by asset management firm APAM, which said it had found many of the affected centres had been the subject of short-term speculative deals.
Executive director Simon Cooke said: "We think these shopping centres have been hit with the perfect storm of defaulting retail markets, weaker consumer spending, the impact of the internet and rising rents and rates, making it very difficult for retailers to trade and make a profit.
"We perceive many of these borrowers beginning to breach land covenants."
Mr Cooke said most of the centres "in crisis" were the subject of deals that are due to be refinanced.
"They have to return money to their investors," said Mr Cooke. "That's not looking very likely. Frankly, the centres are either going to have to be sold at a lower price or have capital injected in order to regenerate and we don't see banks having an appetite for that."
Without reinvestment, Mr Blackley said the impact on communities – particularly small towns – could be stark.
Mr Cooke agrees: "These are big tracts of land, occupying a central space in towns," he said.
"You could see increasing vandalism, increasing crime, with a knock-on impact on infrastructure.
"I'm not suggesting every town is going to face these problems but we need to stop the rot."
He called on the government to address the situation.
"Politicians need to come up with a plan to kick-start the regeneration of shopping centres," he said.
A government spokesperson said: "It's true that high streets are changing, like they always have, and we're committed to helping communities adapt."
The spokesperson said the government had assembled an "expert panel" to "diagnose the issues currently affecting the high street and develop recommendations that will help them thrive".
The future of shopping centres
The trend of closing shopping centres is fairly well-known in the US, where "dead mall" or "ghost mall" is the term that describes the decaying edifices left when mainstream department stores have moved out.
"Many of the challenges facing shopping centres in the UK are mirrored in the USA," said Mr Blackley.
Centres that have prospered, he said, have been canny about expanding their offer.
"UK shopping centres must change if they are to survive," according to Mr Blackley.
"They need to think like a hospitality brand. There has been a marked shift to the 'experience economy', and an increase in spend on food and beverage, which is now accounting for over 20% of total spend in some of the newest schemes.
"Some of the big centres in the UK are incorporating Sea Life Centres, ice rinks, indoor ski slopes. These are the shopping centres that, in my view, will survive.
"There's no doubt that if shopping centres don't deliver an experience consumers want, they will fall by the wayside."
Some of the other visions for the future are similarly radical.
Mr Mead, head of shopping centre asset management at APAM, said community facilities such as libraries, medical centres and even schools could all sit within retail complexes.
"In Richmond, a new school is being built above a Lidl store, so it's not beyond the realm of possibility," he said.
"What people like about shopping centres is that they are centrally located with good transport links. The NHS has expressed interest in having a presence in some centres. With a chemist and other retailers already located there, it would be like a one-stop shop in the town centre.
"The problem is, these centres are run by investors who have a short-term approach and haven't the skill-sets or investments to embrace the kind of changes required. There needs to be a joint venture created with local communities to fix the problem."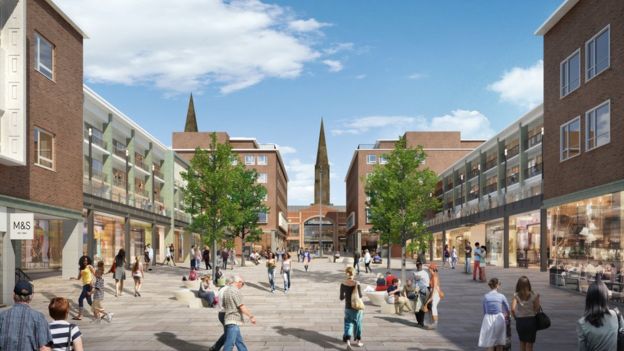 In recent months, some local authorities have bought unloved shopping centres from investors keen to offload them.
"In February 2018, Canterbury City Council struck one of the largest shopping centre deals involving a council on record, taking full control of Whitefriars Shopping Centre in the city," said Mr Blackley.
"The local authority bought out global fund manager TH Real Estate's 50% stake for £75m."
In Shrewsbury, Shropshire Council bought three neglected centres to "support economic growth and regeneration" in the town centre.
Whether such schemes will work depends on the passion and vision of the authorities concerned and whether they are able to secure private investment.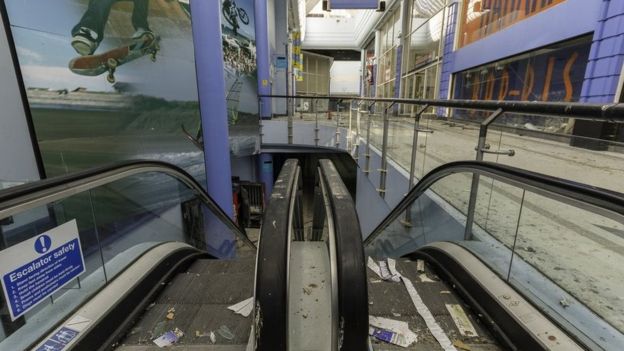 In Coventry, the city council's plan to work with private investors to redevelop its post-war shopping precincts is seen as a good example of how to revive a shopping centre.
"But such investments by councils do risk public money," said Mr Blackley.
"In too many cases, councils are trying to plug a gap and I don't think that is sustainable long term."